Welcome back to week 2 on counter tops! Last week we went over the 7 Most Popular Countertop Surfaces: pros, cons, and costs! This week, we're coming back down to earth and learning about counter tops for those who might not want to invest quite so much. These materials might just surprise and delight you!
Laminate
Laminate has a terrible reputation…outdated, flimsy, cheap…just a few words that come to mind. But it might be worth another look. Laminate has come a long way and the styles and options are endless! It also happens to be the cheapest counter top surface out there, so start warming up to it!
Tip: I believe that laminate is ugly not because of the material but because of the finished edge. You know, the kind that shows the layers that aren't the same color as the counter top. This is SO easy to fix: just don't do a square edge and it won't look cheap, flimsy, or outdated! Simply choose a profiled edge (there's lots of options out there).
Things to Consider before Buying a Laminate Counter Top
Knives are no good—be sure to always use a cutting board!
Try to not use bleach, as it can discolor the counter
Tends to chip, crack and peel on edges, so go the extra mile and use a profiled edge to avoid things getting caught on it.
Cost: $
Butcher Block
What a gorgeous addition to a kitchen: butcher block counter top. I'm not the biggest fan because it is a very porous material, but it is undeniable that it is a beauty! Butcher block, or other types of wood counter tops, can actually work very well. The key is deciding to use the right type of wood (teak, for example, is very water resistant) and the right type of sealer. Generally, homeowners with wood counter tops love them, so do your research and see if you'll love them, too!

Things to Consider before Buying a Wood Counter Top
Frequently disinfect as wood surfaces hold bacteria.
Frequently oil to keep a gorgeous finish and protect the wood.
Wood does not stand up well to knives, so unless you want the distressed look invest in some more cutting boards!
Cost: $$
Recycled Paper
Eco and wallet-friendly? Can it be?! Yes, and it's called recycled paper counter. This is a favorite of mine because of its non-porous nature (yay!) and lightweight structure. No worries about the strength of your cabinets here!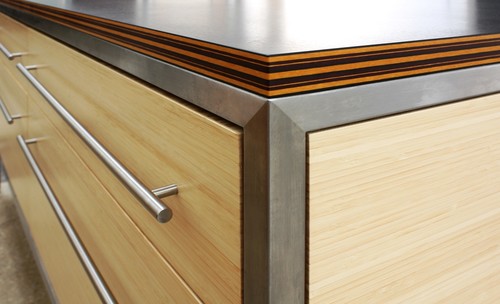 Typically they only come in darker hues and a matte finish, though lighter colors are starting to emerge!
Like most manufactured products, recycled paper can't hold up to heat like natural stone.
Some manufacturers recommend sealing.
Be sure to soak up water to keep the finish nice!
Cost: $$
Solid Surface
Solids surface, often wrongly referred to as Corain, is a great mid-priced option. Because it is non-porous, it don't hold bacteria like other counter top surfaces, but it's nearly as durable as natural stone.
Things to Consider before Buying a Solid Surface Counter Top
Spills must be soaked up in order to keep the finish from becoming blotchy.
It won't hold up to heat or scratches like natural stone, so don't throw out those cutting boards!
Cost: $$$
Glass
Glass—there's one you probably didn't think of! It has durability like other natural materials, though it's suggested that you protect the surface with trivets and cutting boards. This is another non-porous option (which you know I love!) and can be cleaned with your favorite glass cleaner! How easy!
Things to Consider before Buying a Glass Counter Top
The surface will scratch (using a textured glass will help hide this) and will dull your knives if you cut on it.

Don't let acids sit on the surface as they will ruin the finish.

Reseal every 1–2 years.

Cost: $$$
Conclusion
So, there you have it! You don't need to drop thousands upon thousands of dollars on your counter tops. You can spend far less and still get the look you want. You might even have some money left over for a new dining table or dinnerware set!
Photo Credits (click to go to original site) Laminate counter top, Butcher Block counter top, Recycled Paper counter top, Solid Surface counter top, Glass counter top