Last week I showed you how to make Half Square Triangles (HST) fast, using the Magic 8 Method. Today, we'll add to that with a full tutorial on how to get pinwheel blocks that are nice and flat. It's important to get your pinwheel seams as flat as possible so that when quilting you don't run into bulky seams that could distort the quilting, break the thread, or even damage the needle. Longarmers are probably jumping for joy upon reading this post! So, go ahead, impress your longarmer with your fancy pinwheel seams…
Let's get started!
Getting Matching Points on Pinwheel Blocks
Alright, so you've got your Half Square Triangles sewn, pressed, and trimmed—no problem! Now it's time to create your pinwheel blocks.
First, lay out four Half Square Triangles (HST) to form pinwheels, as shown below. Make sure that your triangles are pointing in the correct direction.
Sew together two top and two bottom HSTs. If you followed my Magic 8 tutorial, you'll already have your seams pressed away from the background fabric. This will allow you to butt the two diagonal seams right up against each other. Then you'll have perfectly matched blocks.
Reducing Bulk in Pinwheel Seams
To make sure that your pinwheel seams aren't too bulky, try this trick! When sewing your two 3″ blocks together (as shown above), leave the top 1/4″ of the set unsewn. In other words, start sewing after the 1/4″ seam as shown at the top right of the image below. You'll see why in the next step! Press these seams so that all three seams are running in the same direction.
Now, join both halves together along the long edge, butting those seams right up against each other, as before.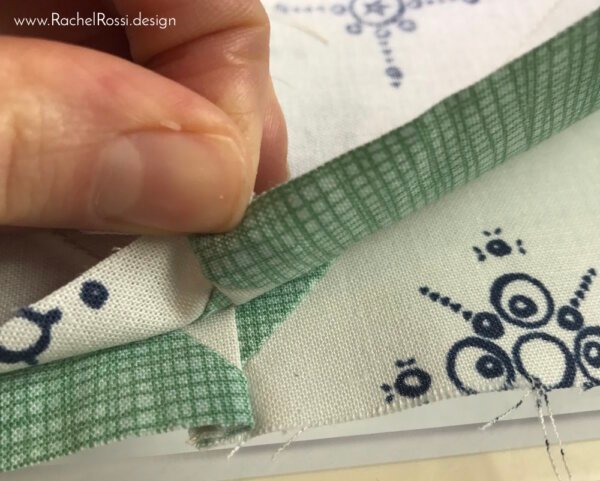 Pressing for a Flat Pinwheel Block
Here's the important part: Gently press the center of your pinwheel seam to open the seam up. This will push one side up and one side down.
Once you've got it how you want it, press. Press it really well! You'll know you're doing it right when you see a mini-pinwheel in the seam allowance, just like the image below.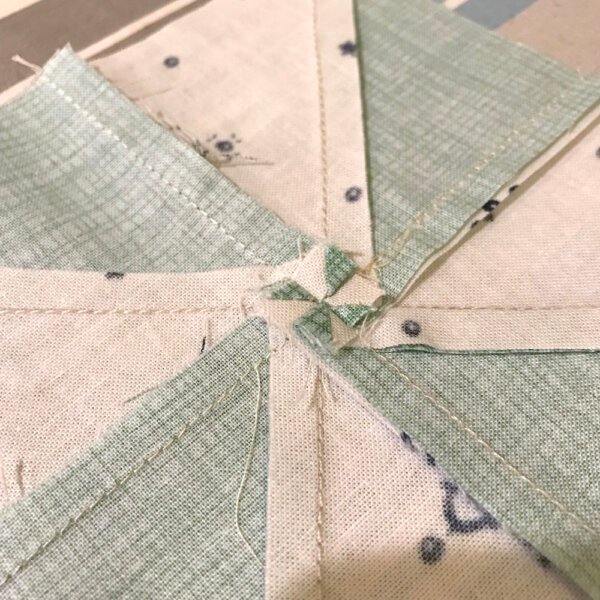 Isn't that super cool?! I'm sort of a geek about how the back of my quilt looks, and this really gets me going! Look at that teeny tiny pinwheel AND the seams are all going the same direction (#love). Not only is it cool and organized, but this is the best way to get a flat quilt top when sewing pinwheels. And it really does make a big difference in the end result—there's nothing quite like a nice, flat quilt top.
Looking for more great tutorials?
Check out all of my awesome tutorials on the blog & make sure to sign up to receive updates when a new post or free pattern is added. Here's a few to get you started…
Make sure to Pin this post for your next pinwheel quilt!
43 Comments