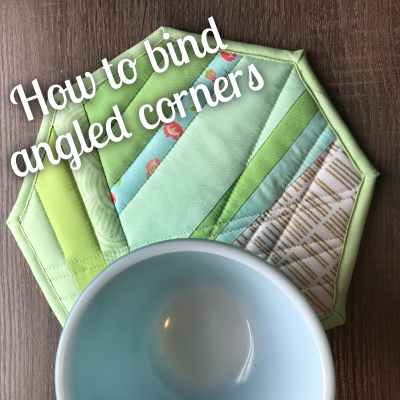 A few weeks ago, I released my new FREE pattern: Oven Octo, this week I want to show you how to sew binding onto those weird angles! I haven't done this before and after having a few difficulties with mine, I thought it would be well worth my while to research and report back to you on what I found! It's actually pretty simple, I've made a few diagrams to make it even simpler! So, here we go: how to sew binding onto different angles…
How to Sew On Angled Binding
First, you'll cut your binding and get that all ready to go. If you need help with this step, be sure to check out my Basic Quilt Binding Tutorial!
Then, decide if you'll be sewing on the second half of the binding by hand or machine. If by hand, then go ahead and place the binding on top of your quilt. If it's by machine, you'll typically want to place your binding on the back of your quilt.
Then you'll use an erasable fabric marker and mark 1/4″ from all edges. Mark all the way up the edge so you get that nice intersection that you see in the image below.
Now that your edges are marked, line up your first piece of binding and start sewing. This will take a little bit of flipping back and forth, but as you near the end, stop sewing when you hit the intersection that you drew. Put your needle down into the fabric where the intersection is.

With the needle down, pivot the quilt and binding so that you can sew straight to the corner (see image below). Sew to the corner and backstitch to secure.
Now, fold the binding back so that it stays in line with the edge of the quilt top.
Now fold the binding back down, matching the angled corner. If it's above the corner you'll have too much of a point. Below, and you'll have a rounded corner. So take the time to match it up nicely!
Then, starting at the very edge, continue to sew the binding on using 1/4″ seam.
Once you make your way back around to the other side, use your Fons & Porter Binding Tool to join your edges.
That was pretty easy, now for the fun part!
Sewing on Binding With a Sewing Machine
Some people like to hand stitch their binding. I usually do, but for small projects like this, I just use my machine. I'm going to show you how to sew on binding with a regular foot, but let it be known that there are sewing machine feet out there MADE FOR THIS and it IS on my birthday list (ehem…) but for those of us who are in a pinch and just need to get this done, here ya go:
To sew on your binding with a machine, it's easiest to iron your binding open so that it's nice and flat. I've even found that on trickier projects, I like to iron and then glue my binding down. Then I'll iron again, just to get everything how I'd like it. It makes the sewing a lot easier! Make sure that your binding edge is just past the stitch line from sewing on the opposite side. This will make sure that your stitch grabs the binding on the front and then sits just at the edge of the binding on the back.
After you're all set, it's time to start sewing. I like to use a medium-large stitch for machine binding, I think it looks much nicer this way.
Carefully place your machine foot so that you're just grabbing the edge of the binding with your needle (as shown below).
When you get to the corner, make sure that everything is lined up how you'd like it. Once you are actually on the corner, put your needle in the down position, pivot, and keep sewing.
I would suggest a few practice runs with machine binding before you work on anything important. A helpful hint: If you turn it over and think the binding looks terrible, try ironing it first! I was blown away by what a  difference it made.
So, there you have it! I wish I had written this before I bound my little Oven Octo, but my mistakes are now your lessons! I'll be sure to give you an update on how it goes next time. Make sure to pin the image at the bottom of this page for a helpful reference!
---
Helpful Hints:
Use thread that is matching or variegated in the bobbin to help disguise the backside of the binding
Use invisible thread on the top to help hide those stitches
Glue your binding in place to help keep everything where it should be


---